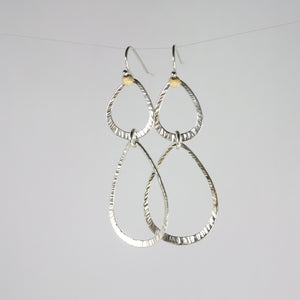 Sterling silver hand shaped and hammered double rain drop shaped earrings with gold-filled bead and short earring dangles.  Light as a feather and easy to wear, this elegant design that can go with any outfit for any occasion.
Exquisitely crafted, fine designer jewelry made in Vancouver. Made in Canada. 
Shipping times may vary depending on market and show dates, please allow at least one week for all in stock items for packing and shipping. All special ordered items may take 3-5 weeks for delivery. If you have any particular requests, please contact Chi via the 'Contact Us' page.