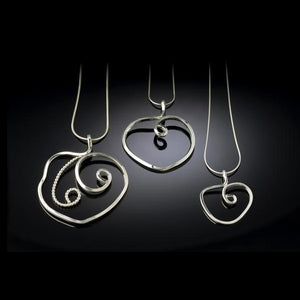 These individual handmade sterling scroll hearts are organic and each one is unique select from three different sizes the large, medium and small.  So easy to wear everyday anytime.  
Approximate size:
Large pendant 2.5"h x 2"w (26", 30" chain)
Med 1.75"h x 1.5"w (16", 18", 20", 24" chain)
Small 1.25h x 1"w (16", 18", 20", 24" chain)
Exquisitely crafted, fine designer jewelry made in Vancouver. Made in Canada. 
Shipping times may vary depending on market and show dates, please allow at least one week for all in stock items for packing and shipping. All special ordered items may take 3-5 weeks for delivery. If you have any particular requests, please contact Chi via the 'Contact Us' page.