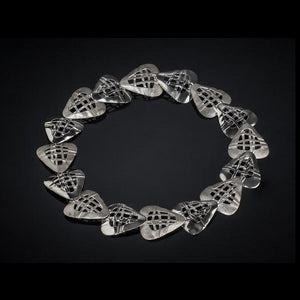 This dramatic sterling silver soft woven triangle design is delicately connected and eye-catching.  Very comfortable to wear due to its light open design.  Total length 20".
Exquisitely crafted, fine designer jewelry made in Vancouver, Canada. 
Shipping times may vary depending on market and show dates, please allow at least one week for all in stock items for packing and shipping. All special ordered items may take 3-5 weeks for delivery. If you have any particular requests, please contact Chi via the 'Contact Us' page.