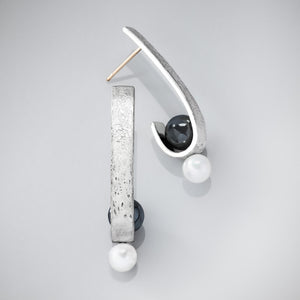 These Balance yin-yang hoop earrings with white pearl and hematite are delicate and elegant.  They go with any outfit and offer the feeling of being balanced and centered each and everyday.
Scribbled sterling silver with 14kt gold ear post.
There's light and dark, day and night, good and evil, yin and yang. Yin-yang refers to a concept originating in ancient Chinese philosophy where opposite forces are seen as interconnected and counterbalancing,
Exquisitely crafted, fine designer jewelry made in Vancouver, Canada. 
Shipping times may vary depending on market and show dates, please allow at least one week for all in stock items for packing and shipping. All special ordered items may take 3-5 weeks for delivery. If you have any particular requests, please contact Chi via the 'Contact Us' page.